The police don't need culture training. I've seen the Haka dozens of times. If someone blocked my exit and did it in my face I would do the same. It's equivalent to saying, "In my culture flipping people off and shouting obscenities at them is historic."
In our culture you don't stick your tongue out at officers. You don't clinch your fists at officers. You don't give them a look like you are going to crush their skull. You don't block exits. When police tell you to move–YOU MOVE. These idiots are the one's needing the culture training.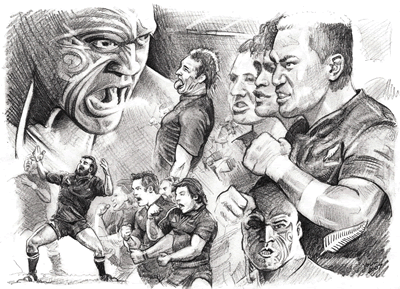 Documents show why officer says he used pepper spray on Haka dancers
http://www.sltrib.com/sltrib/news/52947896-78/police-officers-dance-group.html.csp#disqus_thread
Roosevelt Police Department documents detail an apparent cultural misunderstanding that led officers to deploy pepper spray and use a baton on spectators performing a Polynesian dance at a high school football game.
The documents, including witness and police affidavits, were released to The Salt Lake Tribune in response to an open records request after the Oct. 20 incident involving a group of spectators attempting to perform the Haka, a traditional war dance and chant, to honor Union High School football players after a heartbreaking loss to rival Uintah.
Police ultimately determined both sides were partially to blame as the situation could have been avoided had both officers and spectators made different decisions that night, records show.
Records state the two officers assigned to work security at the game, Luke Stradinger and Wade Butterfield, were already braced for trouble because in the past the rivalry had resulted in fights. Police and other witnesses reported hearing some spectators in the Polynesian group shouting obscenities at the departing referees, displaying poor sportsmanship or making inappropriate comments toward Uintah High School cheerleaders trying to leave the stadium after the game, records show.
School officials were concerned enough about the atmosphere that they opted to keep football players on the field until some of the crowd cleared out, witness statements show. Police had already cleared the exit once and ordered people off the field when a group of Tongan dancers and supporters appeared, suddenly blocking the only exit, one witness affidavit shows. Police said a video recording at one point captures one dancer expressing concern that they might get in trouble with police. Then a woman encourages everyone to start.
Stradinger can be heard on the same video telling everyone to make a hole so that the players could leave, but the video shows the dancers ignored the order. Witnesses statements from those standing amid the group indicate some acknowledged they heard the order, but others said they didn't hear it or that police didn't give them enough time to respond.
Some statements indicate the group was starting the dance so those that heard the order apparently chose to disregard it because they felt they weren't doing anything wrong. Records show as the dance got under way, officers started to worry. They had never seen anything like it and had no prior warning the Haka, which involves some aggressive movements, was going to occur.
http://www.hofw.net/WP/wp-content/uploads/2015/12/logo2.jpg
0
0
Jerry Winkel
http://www.hofw.net/WP/wp-content/uploads/2015/12/logo2.jpg
Jerry Winkel
2011-11-23 16:17:08
2011-11-23 16:17:08
Haka, the Police did nothing wrong